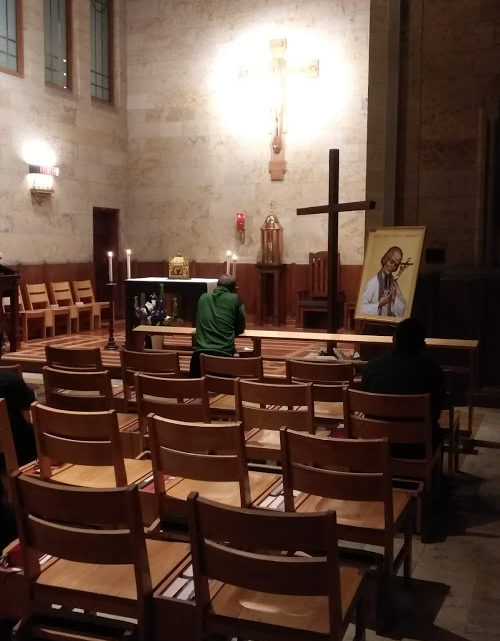 I meant to post this earlier in the week. Like I mentioned in the on FB, St. John Vianney's incorrupt heart was only with us at the seminary for Mon and Tues. I didn't get to spend too much time with the Cure, but the time I did spend was very sweet. Thank you for…
March 15, 2019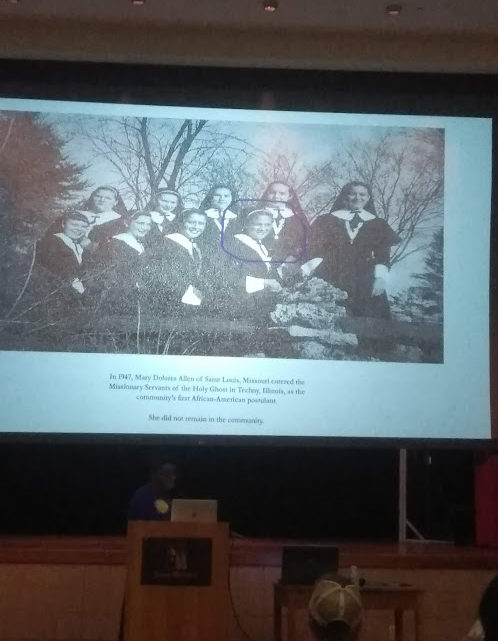 TEMPORARY NOTE: It's late, and I wanted to get this out while it is technically still today, as promised! I wanted to give a fully recap of this year's annual Black History Lecture my seminary had. The topic, again, was "The Real Sister Act: Black Catholic Sisters in the United States." The lecture was given…
February 14, 2019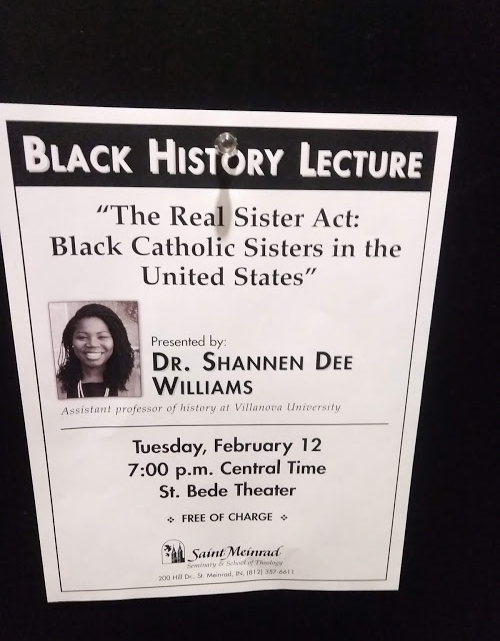 My seminary hosted this speaker and topic for its annual Black History Lecture. And. IT. WAS. THE. BOMB! I've made some quick posts about it on my social media with some pictures up. Here's what I said: "Dr. Shannen Dee Williams rocked the house with her presentation tonight! She was so jammed packed full of…
February 12, 2019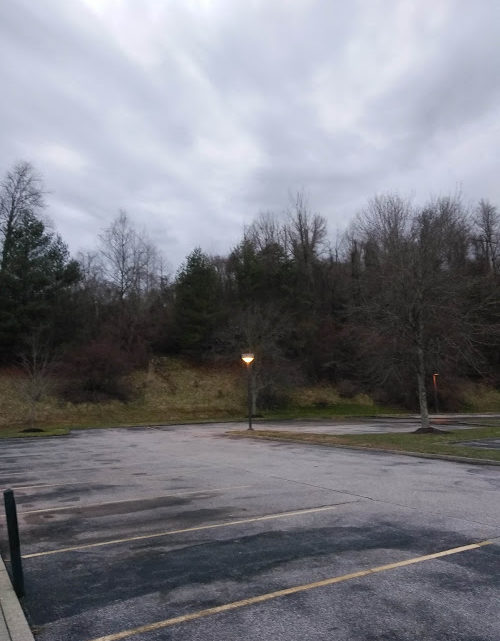 Just as I posted before, I was on a semi-silent retreat with fellow 1st and 2nd Philosophy seminarians at the Saint John XXIII Pastoral Center in Charleston, West Virginia for a week. We just got back to campus today. I'm a 1st Philosophy seminarian (route to ordination: two years of philosophy studies, four years of…
January 25, 2019
This past week my fellow seminarians and I have been on retreat at the Saint John XXIII Pastoral Center in West Virginia before the semester officially begins next Monday. Will post some pictures in a later post. Nice place. It's been a semi-silent retreat, and the rector of our seminary has been leading the conferences…
January 24, 2019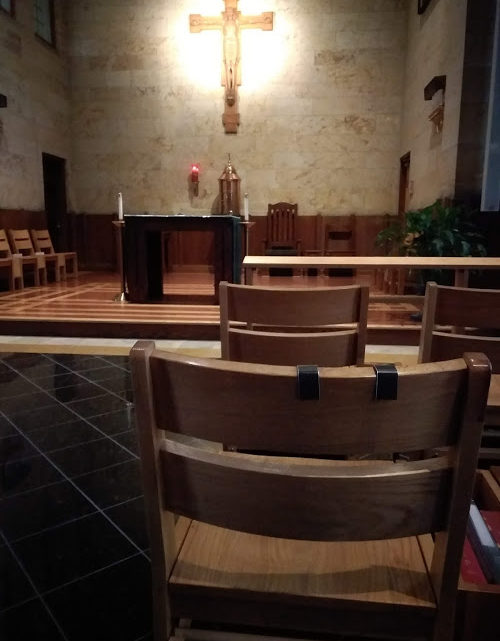 We gathered in the chapel at the seminary to pray a rosary and litany for the end of abortion today! We stand for life and we stand for the Church's tireless defense for the unborn!
January 18, 2019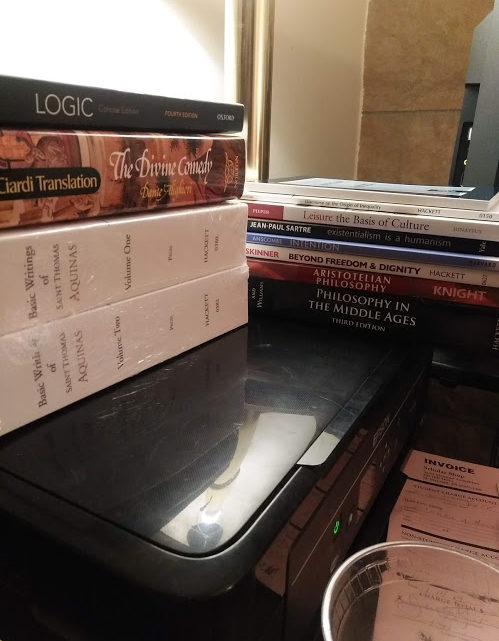 Here's a look at just SOME (12 total in this picture) of the books that are on the line up for my classes this semester. Definitely some interesting things here that I'm eager to sink into and learn from. There's always that little pocket of giddiness and expectation when you first get your books for…
January 14, 2019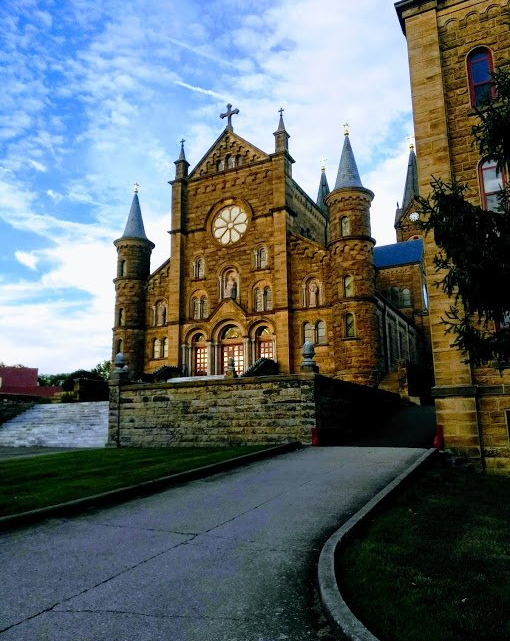 Back at seminary and back to the grind! Here is a good pic of the abbey church I shared last semester.
January 10, 2019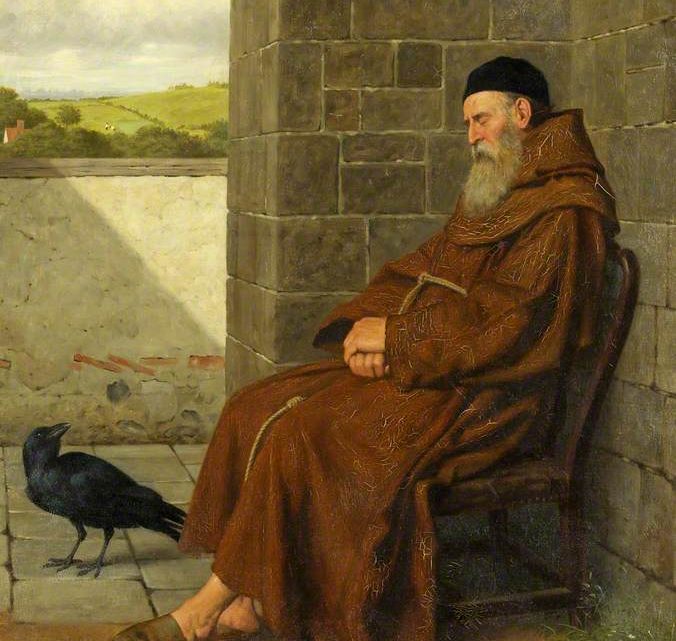 By "further notice" I mean January.
December 15, 2018
Today and tomorrow left in the semester and still have to fight! It really ain't over till its over. Say a Hail Mary for all of us seminarians trying to finish our studies and cruise into a long-awaited break! (Especially for me!)
December 13, 2018